Nutrition Recipes
Lean Muscle Matcha   
1TSP Muscle Matcha
1 Scoop Whey Protein
1TSP Cocao Powder
1 Cup Frozen Berries
1 Frozen Bananas
1/2 Cup Whole Raw Oats
1 Cup of Almond Milk
1TBSP Chia Seeds
5 Almonds
Add water to get the consistency you like!
Ultimate Cleanse
1TSP Muscle Matcha
1 Cup Chopped Kale
1 Cup Of Spinach
2 Green Apples
2 Cucumbers
1 Lime
1TSP Ginger
1/2 Cup Coconut Water
Fat Blast
1TSP Muscle Matcha
1 Frozen Banana
4 Mint Leaves
1 Cup Frozen Berries
1TBSP Chia Seeds
1/2 Cup Coconut or Almond Milk
1/2 Cup of Coconut Water
5 Macadamia Nuts
1TSP Honey for taste
Ice (optional)
Immune Power
1TSP Muscle Matcha
1 Cup Coconut or Almond Milk
1 Kiwi Fruit
1 /2 Cup Frozen Berries
1 Lime
1 Orange
Superior Health
1TSP Muscle Matcha
1 Frozen Banana
1/2 Cup Natural Yoghurt
1 Cup Coconut Water
1TBSP Chia Seeds
1 Cup Strawberries
1/2 Green Apple
J.Nourish x Muscle Matcha
MATCHA CHIP SMOOTHIE
INGREDIENTS
1 frozen banana (chopped)
1 heaped tsp Matcha
1/2 cup of Almond or your choice of nut mylk
1/2 cup of ice
1/2 Avocado
1 scoop of pranaon coconut mylk
2 tbs cacao nibs
A handful of greens/spinach (optional)

METHOD

Add all ingredients, minus the cacao nibs into a blender or NutriBullet.
Blend until you have a smooth + creamy consistency. Add more milk or ice to adjust to desired consistency.
Add the cacao nibs last, pulse a few times to add a yummy crunchy choc-chip smoothie
Top with extra cacao nibs.

And most importantly enjoy 💫
MATCHA SPIRU-LEAN-A BALLS
INGREDIENTS
• 60g raw, unsalted cashews
• 1 tbls Spiralina powder
• 25g coconut mylk Protein powder @pranaon
• 140g Medjool dates, pitted
• 30g desiccated coconut
• 2 tsp Lemon oil
• Juice from one lemon
• 2 tsp Muscle Matcha powder
• 1/4 cup Mixed seeds (I used Flax, sunflower pepitas)
• Pinch of cinnamon and salt

METHOD

1. Process the cashews and dates first in the processor until a sticky crumble forms
2. Next add in the coconut, your fave protein powder, Spirulina powder, Muscle Matcha, cinnamon and salt as well as lemon oil and juice. Blend until all the ingredients are combined
3. I add the seeds last and just pulse them into the mixture to add a little more crunch
4. Divide the mixture into even 30g piles
5. Gently roll the balls in the palm of your hands, and roll in desired toppings.
6. Refrigerate or better yet, freeze for 1/2 hour before serving. Keep the balls in the freezer and have them as your energy pick me up any time!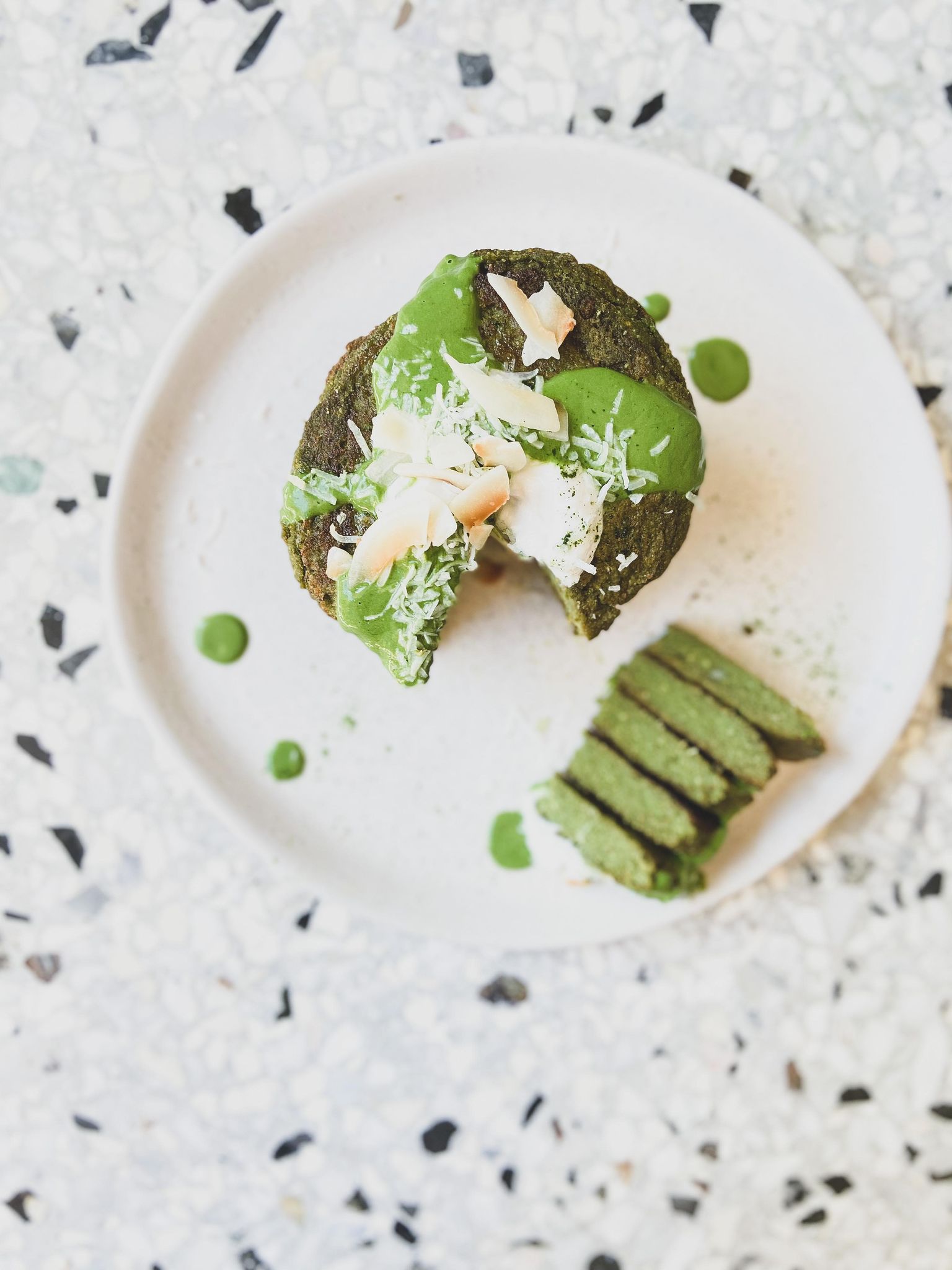 Pancake Batter
Makes: 2 servings |Prep: 5 MINS | Total: 20-25 MINS (depending on the pan size to cook in)
INGREDIENTS WET: 4 ORGANIC EGGS, WHISKED 1 TSP APPLE CIDER VINEGAR 1 TSP PURE VANILLA EXTRACT 1/2 CUP OF COCONUT OR ALMOND MILK 1 LARGE BANANA OR 2 SMALL (MASHED) DRY: 3/4 CUP TIGERNUT FLOUR 1/4 CUP OATS OR SUB ALMOND FLOUR 1 TBLS BAKING POWDER PINCH OF SEA SALT 1/2 TSP CINNAMON METHOD + First, mash banana well in a large mixing bowl. Add all the rest of the wet ingredients into mixing bowl and whisk until well combined. + Add dry ingredients. Mix until well combined and a thick batter forms. If too stodgey, add a splash more off your chosen milk. NOTE: it will be slightly thicker than a regular pancake batter as the Tigernut flour is courser in consistency. As an alternative, you can add all of the ingredients to a blender and blend until combined). Set aside for a few minutes whilst pan warms up. + Heat a medium-sized non-stick pan over Low- Medium heat and add enough coconut oil to coat the surface (about 1 tablespoon). Slow and steady with cooking these as you want to keep the colour nice and vibrant without burning the outside. + Measure out a scant 1/4 cup of batter and pour it onto the hot pan. Cook until sides firm up, about 1 to 2 minutes. Flip and cook on the other side another 1 to 2 minutes, until cooked through. Repeat for remaining batter. + I topped these with coconut yoghurt and some toasted coconut flakes as well as some matcha coconut yoghurt drizzle simply made by mixing coconut yoghurt with matcha powder and adding a tiny dash of coconut milk to thin out to form a drizzle paste. Berries are also an amazing combo with this!